Team By Lines
Grand Finale!
Have you ever done something impulsively and then realized that it was the best thing that you ever did?
Have you ever dismissed a line of thought as baseless and then when fate threw a chance, was forced to study in depth about it?
Both of the above things happened to me in the last month.
When Blogadda announced the Game of Blogs, where ten bloggers together as a team would co-author a story, which was to be judged by some of the best selling Indian authors, I joined it impulsively. I didn't think how it will work out or how ten different people with diverse thought patterns would write a story.
Blogadda gave me a team and the only person I knew among the ten, was our point of contact or team leader, Anmol Rawat. I had visited his popular blog a few times. I knew none of the other members, nor was I familiar with their writing.
Blogadda gave us characters and we had to weave a story using them.
It appeared initially as though we would be disqualified even before we began. There were issues naming the team, as to who will form the whatsapp group and also about the story genre. Two inactive bloggers who were part of our team didn't respond, and we were given two others as replacement. Then another team member dropped out owing to his busy schedule and we got another replacement. One of the ten- Sohail, didn't respond till the end. Another one Niranjan, failed to join in any of the discussions or volunteer to write anything though he had joined our whatsapp group. So in effect, we were just eight members in team By lines.
Our point of contact, Anmol suggested that, we should think out of the box regarding the story line because most of the other teams were writing murder mysteries. I suggested that we write a science fiction thriller, an Alien Story. Even after I explained what I had in mind, no one had a clear idea as to how to go about it. Anmol had written a sample chapter and I modified it to incorporate the alien part. After reading it, majority agreed. Soumyaa, our own law student wrote an overview about our story, which immediately turned all the skeptics into believers. Thus began our love affair with aliens.
I never believed in Aliens, always dismissed them as the over active imagination of some creative minds. But because of the story line that we selected, and also because I was the one who suggested it, I was given charge of doing research about aliens and what way we would progress our story.
There was no definite story line during the first week. One by one, the team members wrote and the story moved ahead little by little. And then, I saw a youtube video by Michael tellinger about ancient Aliens who lived on Earth, the Anunnakis. The main villains had entered our story as though fate had guided them to us.
Our hero was a peacekeeper Alien, whose humanoid clan was in charge of protecting Earth and the living beings on Earth. The Anunnakis or the gray aliens, who were forced to leave earth during ancient times, were the power hungry aliens who were targeting earth again. Our hero Cyrus was in search of his second in charge, Clariota, the second most powerful peacekeeper, in order to face the army of gray aliens who were about to attack earth.
Our story became our passion, the Aliens , the new craze.
Blogadda too threw googlies in the form of twists every week. After the end of the first week, our team rank was three but position was five in a total of thirty teams. By second week, we had climbed up the ladder and reached the second position with a second rank. As though the aliens were pulling the strings, both of the twists given by blogadda gave us dramatic entries and avenues to progress our story.
As head of the research wing for our team and the one who had to edit the story to synchronize with other chapters, I read hundreds of web pages and watched many youtube videos. And our story took wings of its own with each post.
Each member wrote something that would guide us forward.
Soumyaa researched about Kundalini meditation, which had a supposedly alien origin. Tina was drowning in information about gadgets people have invented to detect the presence of Aliens. Anmol was constantly sharpening his axe to use on the many number of posts written by his teammates. And he was our Nicholas Sparks who wrote many romantic interludes to keep the interest of the readers.
Ashutosh, Paresh, Ramanathan and Prerna gave us many twists with their intuitive writing. Every night, near midnight, our whatsapp group would be hyperactive active to meet the midnight deadline for the day, imposed by Blogadda. There were near misses and hits. We would celebrate each post with cheers and laughs.
There were many spooky things happening as well that made us blame the invisible aliens as the trouble makers. My faithful phone crashed and its software had to be re-installed. My laptop acted weird at times and a 500+ word chapter went missing from my laptop. My team members said I was using the age-old excuse and it won't work. But it was the truth! I had to start from scratch again.
On the day of the grand finale, my WiFi became dead. The last two chapters were with me, and I had to submit it to the other team members for further editing and posting. My kind neighbours gave me their password and we were rescued again.
In the mean time, after first week, Ramanathan became busy with some personal issues and hence was not able to contribute. But Blogadda offered a solution. Three members could post twice. That would give us the necessary ten posts a week.
Many other minor issues were all managed effectively by co-operating with the super eight. After the first week where there were issues, 'One for all and all for One,' became our slogan. Tina was travelling on work, Soumya left to attend a national meet, Anmol Rawat had exams coming up. Nothing mattered.
Ashutosh, Paresh and Prerna chipped in with jokes, motivation and posts. And we became possessive about our Aliens.
We had created a Secret Group in Whatsapp as well, (which has remained secret till now) where four of the team, the editorial and research wing (Tina, Anmol, Soumya and Me) brainstormed. This was the best thing that came out of the Game of Blogs. We bonded over deadlines, writers blocks; wrote, edited over thirty thousand words over a period of three hectic weeks and became very good friends.
My belief in positivity has strengthened now after the Game of Blogs. I was entered into a random group, but each of the team members I came to know was a gem of a person. I adore every one of them. Read more about them here in Tina's post.
Out of the eight, three of us- Me, Tina and Soumyaa are crazy about Hrithik. Three other members Anmol, Prerna and Paresh are mad fans of Deepika Padukone. Prerna has been acknowledged by Deepika Padukone herself as her biggest fan and have even walked the ramp with Deepika during filmfare awards. Therefore, the boys keep buttering Prerna to get Deepika for a dinner date. Especially Anmol!
Ashutosh wavers between Emma Watson and Sonam Kapoor.
So there were heated filmy talks and debates as to who will star in the movie based on our novella. We were such mad people. We think far ahead. Always. After all, Aliens are our muse. We are miles ahead in vision and creativity.
If given a chance, I would work with these great people any time. They have bestowed a new name on me as well.
Naming ceremony!
The Great Master, after the character of The Great Master (the Guru of all peacekeeper aliens) I created for our story!
Crazy with hours of research, I even spotted a colourful UFO in the sky last week while watching the late evening sky. Twice- not once!
May be my muse had come to pay a surprise visit!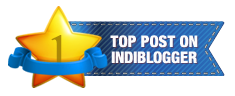 This post is part of the WordPress Daily Prompts : 365 Writing Prompts program where the aim is to post at least once a day based on the prompts that they have provided. Today's prompt is
Blank is the new blank
"_____ is the new _____." There's your post title. Now write!
I am one of the guest authors at We Post Daily for the month of October.