"Negative feelings are not true feelings at all; rather, they are your thoughts about something, based always on the previous experience of yourself and others. You will not find Truth in your past data, only past data that is based on other past data that is based on other past data, and so forth. Forget your "past experience" and look directly at the experience you are having Right Here, Right Now," says Naele Donald Walsh, the author of the book series 'Conversations with God.'
My belief system has undergone drastic change in the last decade, and as I finally realize, for the best.
Ten years ago, I devoured the newspaper first thing in the morning. It was my morning ritual that was followed religiously. I updated myself daily on the trending topics. My days would be filled with the repercussions of the news that had happened in a faraway land to a person whom I would never have known but for the newspaper that told me his/her story. I fretted; I became depressed and felt helpless that I couldn't do anything for them. I made my day a long drawn misery.
Now, my mornings begin on a calmer note. Newspapers are a taboo for me in the mornings. I spend my time reading inspiring articles, watching inspirational videos and doing anything that would cheer me up. I believe that mornings define our day. A happy morning precedes a happy day. I use that time to bond with my husband and kid. I do Reiki meditation and healing and enjoy the 'me' time that I get after my husband leaves for office and my son for school.
And it has helped me grow as a person. I am calmer and happier. I am more productive and I have accomplished much in the last one year alone. And for that, I have to thank Rhonda Byrne who gave me 'The Secret', Louise L Hay who taught me to love myself and Robin Sharma who assured me that
All change is hard at first, messy in the middle and gorgeous at the end.
When it comes to choosing reading material, I use the same criteria for selecting them. Even if the blog post is written by a close friend but has a depressing story line or feature, I skip reading it. I believe that focusing on negativity doesn't reduce its occurrence, it just invites more of it into our life.
I started reading at a very young age, and I have read my share of gore and almost every genre that people classify into classics.
I now pick books that inspire, encourage and motivate me. I read blogs that have humor, art or inspirational stories. The one
criteria
for my selection of reading material is their positivity.
I hate criticism and I avoid it to the maximum.
I believe that people who can't- criticize, those who can -Do!
I am a positivity fanatic you can say. I have unfollowed persons on facebook and deleted blogs of people from my blogroll who find pleasure in posting the most gruesome posts and stories. And I don't regret it.
As the saying goes, a reader lives a life when he is reading a story and hence I choose to lead a happy life. I prefer to avoid controversies that are trending. I avoid digging deeper into a tragedy that has occurred in a remote corner of the world. When I hear about such news, I send a prayer to them and then leave it to god. I don't think that biting my nail off and discussing an issue that I cannot contribute to in anyway will help this world to be a better place. I tend to be selfish that way. But yes, I am eager to help if I can be of help.
I filter out the negatives with utmost care and I wish to remain that way for the rest of my life, mostly because I believe in the law of attraction. Like attracts like, negatives attract more negatives and positive thoughts attracts positive happenings and health. I have found that it works like magic.
Have a positive day folks.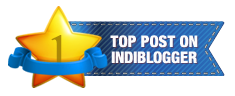 T
his post is part of the WordPress Daily Prompts : 365 Writing Prompts program where the aim is to post at least once a day based on the prompts that they have provided. Today's prompt is
Reading Material:
How do you pick what blogs or books to read? What's the one thing that will get you to pick up a book or click on a link every single time?
I am one of the guest authors at We Post Daily for the month of October.